I love to see other artists art rooms and thought I'd post mine. I just added all the white drawers on the left side. Still not enough room.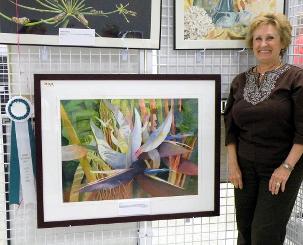 TWO NEW PAINTINGS IN MY STILLIFE PAGE
ALL COMMENTS ARE APPRECIATED
"From my Garden" is currently at the 5th ave Gallery on Highland ave, Melbouren, FL
It is aprox 22"x 30" framed in a plane gold 1" frame.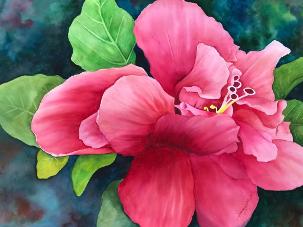 WHITE LILLIES This was a teaching project in Titusville last year It was a fun painting everyone loved.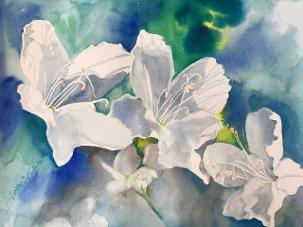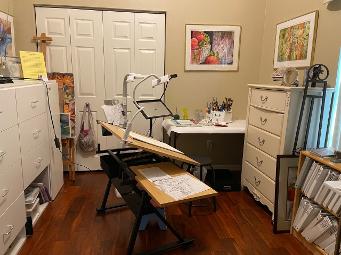 Vibrant Luminous watercolors
Turn a house into a home with warm glowing
Paintings
Many subjects to choose from including landscape-seascape-boats-water-florals-stillife-Tropical

Transparent
Watercolor on 140 lb Arches paper I love to paint the negative painting in the background but sometimnes I overdo it, hope I didn't this time.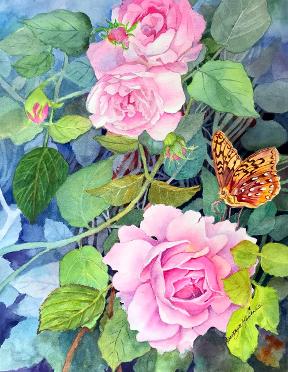 Will paint from your photo, of your pet, your vacation, garden, house etc
Why not have a painting on your wall to remind you of that wonderful vacation?
Don't lose the memory of your favorite pet
See your garden on your wall all year long. All I need is a couple photos of your favorite subject.
ART

"From our hearts, to our minds, to our hands, to your walls"