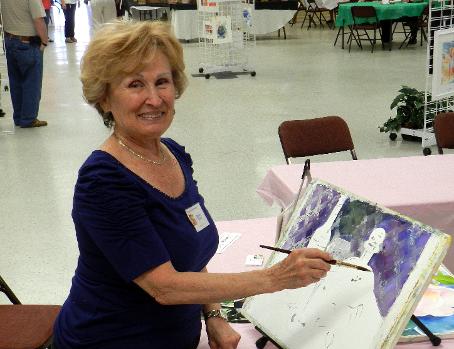 Dorothy is an award winning artist who has been painting most of her life and it shows in her vibrant work. She paints many subjects and is qualified in all. She also has the ability to intone enough color and depth to make a watercolor as deep as an oil painting.
She started her career by painting landscapes with deer, horses and birch trees in oil. When the fumes began to affect her she switched to Acrylics and watercolors and has perfected it in the years since then.
Artist in residency 3 yrs in a row in Belleville, MI
She has taught painting in art clubs and public and private schools, taught private lessons and given demonstrations to art clubs. She has judged and juried art shows, belongs to many art clubs and has served at different offices in them.
Dorothy has shown her Paintings at Galleries, Art Fairs, Art Shows and in private
collections.
Dorothy teaches,(lessons and workshops) demonstrats and juries art shows
Two outdoor painting demonstrations done this summer, one at a garden walk in Milford, MI and another at an art show in Highland, MI
Dorothy has demonstrated for art groups, juried art fairs, shown her work in art fairs and taught art for many art groups.
Currently teaching in Titusville, FL
Nature has taught me to appreciate my surroundings, I'm inspired by it's beauty.
Nothing is more exhilarating than the challenge of painting something new and then to capture its essence.
Watercolor is the only medium that creates the softness of color, no other medium comes close. It has taught me perserverance and given me my greatest satisfaction.
I feel fortunate that through my paintings I'm able to share the beauty that surrounds us.
I love to demonstrate and teach have been doing so for many years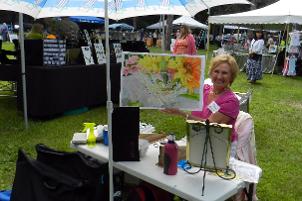 Here I am with my "Best of Show" winner at the annual "Splash" art show in Brevard county FL
Demonstration for the Brevard Watercolor show